Leaders from 85 conservation districts across Oklahoma attended the 81st Annual Meeting of the Oklahoma Association of Conservation Districts (OACD), Feb. 24-26 in Oklahoma City. More than 300 attendees convened at the Embassy Suites Oklahoma City Downtown Medical Center for educational sessions, workshops and networking opportunities.
"Across Oklahoma, local conservation districts work every day with landowners to conserve and promote healthy soils, water and other natural resources," OACD president Jimmy Emmons said. "Those who know the land and its resources provide insight on best management strategies and how they can be applied on other landscapes."
This year's meeting theme, "Charting the Course for Conservation," celebrated the achievements of local conservation districts in Oklahoma and provided tools and resources to help them plan for the future. Meeting-goers heard from a line-up of prominent conservation leaders on the diverse range of natural resource challenges and successes districts across the state are facing.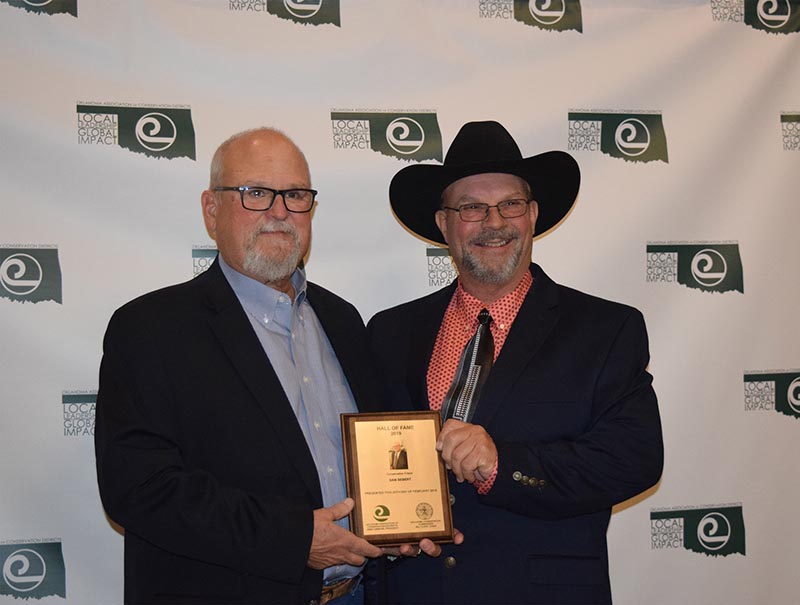 Top youth from throughout the state were recognized Sunday, Feb. 24, at the state youth contest awards ceremony. In 2018, more than 8,000 youth participated in the OACD/OACDE youth speech, essay and poster contests.
Monday's opening general session featured learning opportunities for conservation districts focusing on long-term planning, understanding changes in the 2018 Farm Bill and efforts to conserve monarchs and other pollinators.
Monday evening, OACD recognized winners of state awards at the annual awards banquet. John Dee Butchee, Jackson County Conservation District Manager, received the second annual Elmer Maddux Award for Conservation Advocacy and Stewardship. Representative Kevin Wallace of Lincoln County was honored with the Legislator of the Year Award. Inductees into the Conservation Hall of Fame were friend of conservation Dr. Dan Sebert, CEO-Executive Director of the National Watershed Coalition, and Creede Speake, longtime director of the Arbuckle Conservation District. In addition, the Leopold Conservation Award was presented at the banquet to Russ and Jani Jackson of Mountain View, Oklahoma.
The meeting concluded Tuesday, Feb. 26, with a soil health track designed to help farmers and ranchers take the next step toward implementing a soil health system. Attendees heard from leading experts on a variety of soil health topics including sustainable agriculture, biotic farming, furrow irrigation and cover crops. Speakers included Adam Chappell, No-till Producer of Cotton Plant, Arkansas; Steve Tucker, No-till Producer of Venango, Nebraska; Dan Prevost, Forester and Wildlife Biologist with Delta F.A.R.M. of Stoneville, Mississippi; Brendon Rockey, Rockey Farms of Center, Colorado, and John Lee, State Conservation Agronomist with USDA-NRCS Arkansas.
The 2019 OACD State Meeting was sponsored by the Natural Resources Conservation Service, the Oklahoma Conservation Commission, Oklahoma Association of Conservation District Employees, ITC Holdings Corp., Oklahoma Tribal Conservation Advisory Council, Enel Green Power, Farm Credit of Western Oklahoma, Turner Seed, Green Cover Seed and Okies for Monarchs.